Raleigh Road Outdoor Theatre

| | |
| --- | --- |
| location | 3336 Raleigh Rd. (business US 1 south), Henderson, N.C. |
| telephone | (252) 438-6959 |
| year opened | 1949 |
| capacity | 265 cars |
| screen size | 60' x 80' |
| booking policy | double features |
| sound | FM |
| other features | digital projection |
| admission | $7 (children 3-11, $4; 2 and under free); online ticketing and season passes available; more info here |
| website | www.raleighroaddrivein.com |
---

Rate/comment on this drive-in
If you've been to the Raleigh Road and would like to share your opinions, click here.

Average rating: 4.33 (9 votes)
"My boys and I LOVE your DRIVE-IN." 5 -- George S. Hrisanthacopoulos
"I had a fabulous experience at this drive-in movie theatre. The location was easy to find, the folks were SO helpful at the entry gate and provided me with a ton of information because it was my first visit. I came with my brother and his family in a separate car and we ALL had a wonderful experience! They are pet friendly and lived up to it as my dog was even given a 'treat' from the ticket window. The concession stand folks were nice as could be and courteous. Me and my family will definitely go again... maybe even again this weekend!!!
"A big 'thumbs up'!!" 5 -- ABW
"We've been taking our children to this theatre for a few years now....it's not as "cozy" as it used to be but it's still economically better than your traditional movie theatre.....our last visit, I purchased some M&Ms for $2 apparently melted but then refrigerated....also, there was a group of teens standing around the food area talking during the entire movie....we had to park in the back b/c we had a SUV (which was totally fine for us)...i just wish it would come up to grade just a little bit more to what it was about 2 years ago...... In all that, they are still a kid-favorite for Friday night in my household :-)" 3 -- mrs
"I've been to the Raleigh Road drive-in many times in the past but this was the first time in a few years. The price is still good in comparison to traditional movies; however, the new owners are unnecessarily brash. The price isn't worth the aggravation. We arrived early and parked in the second row where we've always parked on previous visits. The owners waited for our family to set up chairs and the movie to begin before rudely approaching and barking that SUVs needed to be in the third row or beyond. Moreover, not all of the SUVs were asked to move. The drive-in could be a great experience but customer service and courtesy should be foremost in any business and the new owners lack this. They were extremely rude and I won't be visiting again despite how much my family and I once enjoyed it. The previous owners were so courteous." 3 -- Rebecca Westcoat
"We love it, takes us back to when we were kids and Drive-in's were everywhere." 5 -- Rebecca Henderson
"Drive-ins are disappearing, but this is one well worth keeping. Family entertainment for the whole family...including the dogs! We come down from Norfolk to enjoy this theater. Great foods, wonderful staff and current movies. Can't ask for more. Thank you for allowing our family true family entertainment! See you next weekend!" 5 -- Laura
"This drive in is awesome. Their concession prices are a little high, but everytime I go my overall experience is awesome." 4 -- destiny
"No provisions for the handicapped to go to the bathroom, otherwise enjoy very much but have trouble sitting thru 2 movies when you need a bathroom." 4 -- cheryl
"My husband and I never thought we would be able to go to a Drive-In together. The one in Waldorf, MD was torn down when we were kids. We had the best time $10 could ever buy (and we bought a huge bucket of popcorn, of which we saved the bucket because it says Drive-In movie). The owners are super nice and welcomed us out-of-towners. I told my husband when we move I want to be near here." -- Corri Roberts

Originally named the Moon-Glo Outdoor Theatre; renamed Raleigh Road in the '70s. Purchased in 2006 by Jim and Megan Kopp of Northern Virginia, it underwent extensive renovation, as evidenced by the photos further down the page. In December 2011, Mark and Jennifer Frank, operators of the Keysville Drive-In, purchased the Raleigh Road.

Click here to see an recent, full-color aerial photo of the drive-in.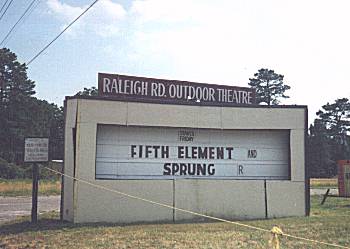 Above photos (from mid-1990s) from Tim Thompson's Drive In Theater. Used by permission.

Below photos were taken in April 2006, shortly after that year's reopening, and show the extent of the renovation efforts up to that point...

...and these photos from March 2007 (courtesy Jim Kopp) show the results of an additional year's worth of TLC.