Keysville Drive-In

| | |
| --- | --- |
| location | US 360, 2 miles north of Keysville, Va. |
| telephone | (434) 736-0360 |
| opened | 1952; closed 2001, reopened May 29, 2009 |
| capacity | 200 cars |
| booking policy | double and triple features |
| admission | $7 adults, $4 children 3-11; online ticketing available |
| website | www.keysvilledrivein.com |
The Keysville is now available for lease by its owners, Richard and Lisa Boaz. From their Facebook page:
"The Keysville Drive-In Theatre is available for lease. It provides an excellent opportunity to generate extra income. Ideal situation for retirees, former military, teachers, couples, groups and those who long for the 'good old days.' New roof in 2015. Septic tank and screen tower less than ten years old. Two story concession/projection building. $10,000 a year. Business consulting available."
They may be be reached by email here.
---

Rate/comment on this drive-in
If you've been to the Keysville and would like to share your opinions, click here.

Average rating: 4.6 (5 votes)
"Good food, nice family atmosphere." 5 -- Hambone
"Always a good time at Keysville Drive-In. Mark and team do a good job. Good family fun. Enjoyed all the shows so far, but needs to play some Blues before the show." 5 -- 1st Ticket Mike
"Had a great time on Saturday night Sept 12, 2009. Glad to see it re-open and I have passed the word around. So many of us have children that have never been to a drive-in. So, fit the drive-in into your weekend." 4 -- Allen Smith
"My wife and I love this place and really appreciate the opportunity to relive our younger years sitting together in the privacy of our car, watching a movie and commenting on the parts that we felt were noteworthy. We also appreciate a great entertainment bargain, first run movies, pretty good snack-shack and super nice staff people. You have to plan when to use the restroom, since there are only two and the sound is coming through your car radio, which means that you will probably have to idle your car or bring a pair of jumper cables! We go as often as we can whether we are interested in the movies or not, just for the experience and to support local business." 4 -- Victor
After eight years of inactivity and decay, the Keysville is back, thanks to Mark Frank of nearby Crewe, who has leased the drive-in, rebuilt the screen and renovated the snack bar/projection building.
Click here to see the 1991 USGS map depicting the drive-in and surrounding area.
Click here to see a 1994 aerial photo of the drive-in.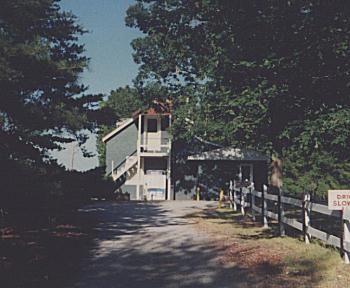 Photos from Tim Thompson's Drive-In Theater. Used by permission.