Winchester Drive-In
Martinsburg Pike (US 11 north), Winchester, Va.
capacity: 300 cars
years of operation: 1948-86
currently: small strip mall anchored by motorcycle shop (Full House Cycles)
The Winchester area's first drive-in opened on June 25, 1948. Besides the onscreen feature, Ladies Man, a musical comedy featuring Spike Jones and His City Slickers, the first patrons were treated to a blow-by-blow account of that night's Louis-Walcott heavyweight title bout on the drive-in's loudspeakers. (In-car speakers would be installed the following year, along with the addition of a "colored" section.) In the early '70s, it began advertising "special late shows" in the local paper -- you had to phone the theatre to learn what movies were to be shown. (Three guesses as to what type of movies these were, and the first two don't count.) By 1983 or so, the Winchester had gone XXX full time, and would remain so until the end. During much of the '80s it utilized radio sound (570 AM), which reportedly could be heard up to a mile away, giving a number of local residents who happened upon the signal some, shall we say, vivid listening experiences...
"OMG !!! I remember the old Winchester Drive-In on Route 11 (better known to locals as the Martinsburg Pike). Even though by the early 80s Winchester had three indoor movie theatres and of course the still-open Family Drive-In in nearby Stephens City (now pretty much a suburb of Winchester), the Winchester Drive-In had more business than any of them. The owner of the Winchester indoor theatres ran into money woes in the early 80s. Instead of showing then-popular flicks like On Golden Pond or The Blues Brothers, the Plaza and Camelot Twin showed some rather grade-Z flicks. For a time those theatres actually closed which meant the place to go to see the blockbusters was the Winchester Drive-In. The Family Drive-In back then really took the word 'Family' quite serious since they only admitted families. Teenagers by themselves and even single couples who wanted to see a movie had to go elsewhere. At least that was the way it was back then, I am sure that 'policy' has since changed.
"I remember seeing Porky's at the Winchester Drive-In. Place was packed!!!! However, truth be told, that drive-in's bread & butter did come from those showings of porn. Winchester Drive-In made quite a bit of money showing those. So much so that even in its later years, The Winchester Drive-In was open even during the winter and I think 7 days a week too.
"Last time I was at the Winchester Drive-In was just before they closed in 1986. Yes a group of us did see a porn movie there. Still quite a turnout even though there was snow on the ground!!! But still though there were already quite a few signs that the drive-in would not be around around for much longer. For starters the snack bar was already defunct by then, plus the parking area had issues too. Oddly though, despite Winchester/Frederick County being in the 'bible-belt', I don't remember anyone getting upset back then at the Winchester Drive-In showing porn. Again not back then anyway.
"Oh yes...they did broadcast the movie soundtrack on AM 570 and yes that signal did get out. My uncle back then used to work at the Crown Cork & Seal plant just across the street from the drive-in and they got the signal very clear inside the plant. Of course part of the 'fun' of watching a porn flick is seeing what is going on, not really audio only. Kinda defeats the purpose LOL.
"What killed the Winchester Drive-In I believe was the VCR. It was around this time (1985-1986) when many Winchester-area video stores started to carry adult films, many of which were still being shown at the Winchester Drive-In.
"For years after they closed the Winchester Drive-In stood empty. Interesting, back in the early 90s there was talk about someone buying the drive-in and planned on opening it up only to run into a problem with Kraft General Foods. The people at Kraft had bought the land right behind the Winchester Drive-In for a new plant and they felt the drive-in would not be in the best effort for their employees and since they provide Frederick County with money (those taxes!!), plans for the drive-in opening up again fell through.
"For years I used to drive by that empty Drive-In on my way to work in Martinsburg, WV. One day I saw the land cleared up and I thought to myself 'hey they are going to open up again !!'. Sadly that would not be the case since in the paper that night I read about a new small shopping center was to be built on that site. The owner of the land actually wanted to save the screen and use it for a billboard for the new shopping center but Frederick County said NO. And that was the end of the Winchester Drive-In.
"Thanks for the memories." -- Cathy Jones
Click here to see the 1987 USGS map depicting the drive-in and surrounding area.
Click here to see a 1997 aerial photo of the closed drive-in.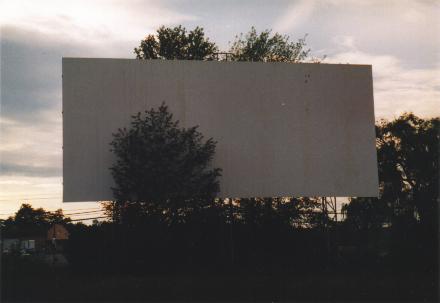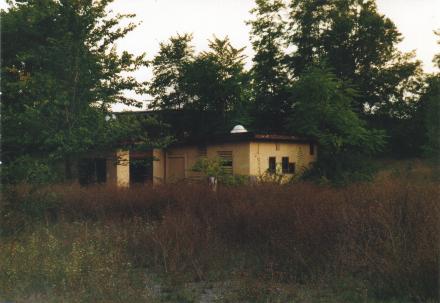 Above photos taken 1997.

A lonesome screen looks out on a desolate field. Photo taken August 2001.

Got some additional information, or some pictures or stories about this drive-in
you'd like to share? Email me -- thanks!