Taylor Drive-In
US 23 north at Moccasin Gap, Weber City, Va.
capacity: 250 cars
years of operation: 1953-76
Founded by the Taylor brothers (Malcom, Bascom and Ralph), who also ran the Taylor Theatre in Gate City and other theatres in nearby Kingsport and Mountain City, Tenn. Its "hairpin-type" cafeteria was the first of its kind in the Kingsport area. Sold in the early '60s to Martin Theatres (the predecessor of Carmike).
Below is part of a 1969 aerial photo showing the drive-in.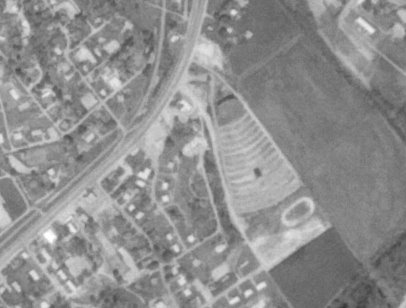 Click here to see the 1989 USGS map depicting the drive-in and surrounding area.

Got some additional information, or some pictures or stories about this drive-in
you'd like to share? Email me -- thanks!