Cinema City Drive-In
US 17 at Victory Blvd., Tabb, Va. (1 mile north of Newport News city limits)
years of operation: 1947-72; 1974-89
currently: purchased by Wal-Mart and torn down
The first drive-in in the lower Peninsula, the York Drive-In, was built shortly after World War II by Mercer and Dorothy Hogge, store owners from Yorktown, who debuted the new theatre with a Hopalong Cassidy feature. In the '50s it was displaced from its previous, nearby site by improvements to US 17 and reopened at the latter-day location. The Hogges managed it until 1971, when they left the business due to movies' increasing raunchiness and sold it to the concern that operated the Hampton Drive-In. It was torn down and, in 1974, replaced with Cinema City -- a combination double-screen indoor and single-screen drive-in that was considerably larger than the York. It still stood in late 1997, having been originally slated to be sacrificed for a strip mall that never got past the planning stage. It looks now, though, as if the now-vacant site is destined to become a Wal-Mart.
Click here for an interactive 1963 aerial photo of the York Drive-In (zoom in or out, or compare to older or newer photos of the same site).
Click here to see the 1986 USGS map depicting Cinema City and the surrounding area.
Click here to see a 1995 aerial photo of Cinema City.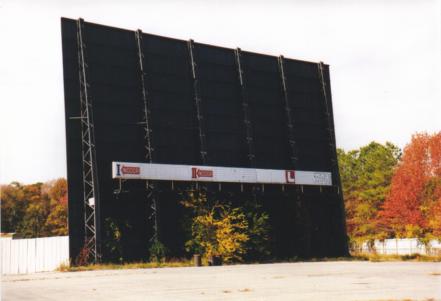 Photos taken November 1997.

Got some additional information, or some pictures or stories about this drive-in
you'd like to share? Email me -- thanks!