Queen Drive-In
US 11 south at Wildwood Rd., Salem, Va.
capacity: 150 cars
years of operation: 1955-57
currently: U.S. Foodservice distribution center (drive-in entrance road reportedly still visible)
According to Bo Bohon, son of drive-in founder Waller Bohon, there were also "an Olympic size swimming pool, a Ferris wheel, hobby horses and a boat ride" at this location.
Below is part of a 1960 aerial photo showing the drive-in. Area to the right with the oval track-shaped feature may have been where the above-mentioned attractions were.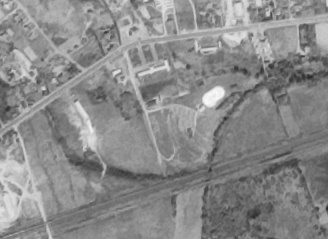 Got some additional information, or some pictures or stories about this drive-in
you'd like to share? Email me -- thanks!