Patterson Drive-In
Patterson Ave. (VA 6 west, just over Goochland/Henrico county line), Richmond, Va.
capacity: 634 cars on 14 acres
years of operation: 1966-81
currently: vacant; main building still standing
Built at a cost of $275,000, it featured an outdoor seating area in front of the snack bar, a teen dance pavilion, and a playground in front of the screen featuring a motorized merry-go-round. Opening features were Disney's That Darn Cat and Elvis' Harum Scarum.
"I was the manager of the following Richmond-area drive-ins when they closed down: the Patterson in 1981 and the Airport in 1985. I was also the last movie projectionist at the Bellwood in 1986... The Patterson...was a nightmare [to work at]. It was built, I believe, in 1966, and from what I understand was totally state-of-the-art. However, in the early '70s the Richmond area suffered major flooding from the remnants of Hurricanes Camille and Agnes. This flooding put the entire Patterson Drive-In virtually under water. I heard all you could see of the concession building was the roof. This destroyed the teen pavillion and the kiddie rides. But worse yet, it turned the area surrounding the drive-in into a virtual swamp. In 1981 we probably had one of the prettiest pictures you ever saw being projected onto a drive-in screen but the MOSQUITOES from the swampy land would eat you alive. That one factor absolutely destroyed the business there. A funny note about the flood is that the dumpster behind the concession building actually floated its way off into the woods!!!! The dumpster company had no way of retrieving it so they just left it there. It may still be there. Someday, someone will find it and rack their brains as to how it got there. Anyway, it's good talking about the old days." -- John Peppers
Click here to see the 1996 USGS map depicting the Patterson and surrounding area.
Click here to see a 1994 aerial photo of the drive-in.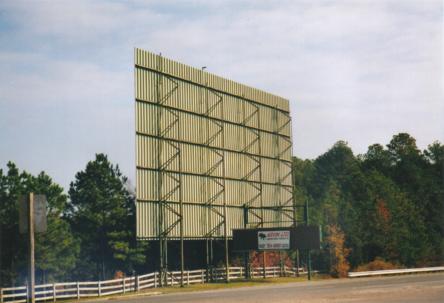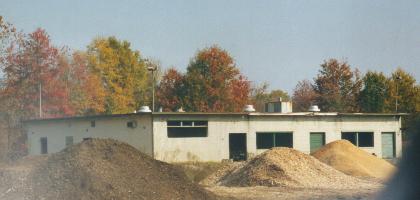 Photos taken November 1997.

Opening night ad, May 27, 1966.
Thanks to Richard Webb for this Patterson handbill, most likely from July 1970.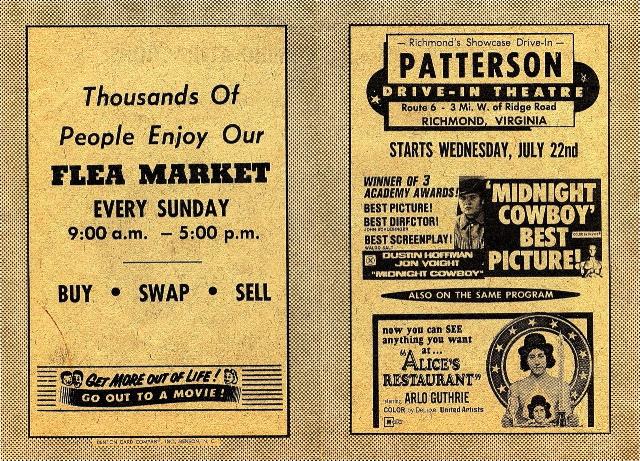 Got some additional information, or some pictures or stories about this drive-in
you'd like to share? Email me -- thanks!