Anchor Drive-In
10121 Jefferson Ave. (US 17), Newport News, Va.
capacity: 500 cars
years of operation: 1952-85
currently: strip mall, condos
Built by the locally-based Gordon Theatres circuit; sold in 1969 to Martin Theatres, which later evolved into Carmike.
Click here for an interactive 1963 aerial photo of the drive-in (zoom in or out, or compare to older or newer photos of the same site).
Click here to see the 1986 USGS map depicting the drive-in and surrounding area.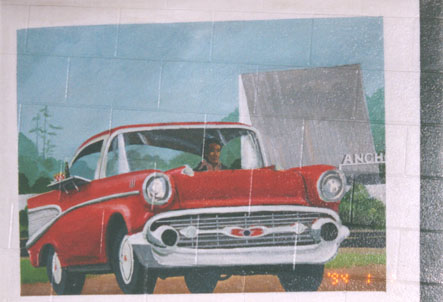 Local artist Ken Bowen's rendition of the Anchor, part of a mural of city landmarks in the cafeteria of Newport News' Kiln Creek Elementary School.

Got some additional information, or some pictures or stories about this drive-in
you'd like to share? Email me -- thanks!