Lee Highway Drive-In
8223 Lee Highway (US 29 at Gallows Rd.), Merrifield, Va.
capacity: 1353 cars (in 1983)
years of operation: 1954-84
currently: 14-screen National Amusements multiplex -- closed 2009; property to become "Mosaic District" mixed-use development
The Washington area's largest drive-in was opened August 26, 1954 by the Massachusetts-based Redstone Drive-Ins chain. There were two separate entrances, at Lee Highway and Gallows Road. The theatre, which boasted a 50'x120' CinemaScope screen as well as a unique rotunda-style dining area, was set well back from the highways, its blacktopped lot surrounded by large trees; in fact, the ticket booth itself was around a thousand feet from either entrance, about at the farthest corner of the present multiplex building. The screen tower, emblazoned with the drive-in's name, was visible from nearby Arlington Boulevard in the years before that corridor was developed with office buildings. After the 1984 season, Redstone, which is now called National Amusements, closed both of its Northern Virginia drive-ins (this and the Mount Vernon) to replace them with multiplexes which at the time were the largest in the area. National Amusements, which continued to operate the theatres, is also known as the controlling company of the vast Viacom and CBS media empires, with properties including Paramount Pictures, CBS Television, MTV and Showtime.
"Thank you for starting this website. I was at [either the Lee Highway or Super 29 Drive-In] almost every Friday or Saturday night that they were open in 1970, '71, and '72; almost all of those nights with the same girl. Great times and great memories: like the time we both fell asleep at the Super 29 around 12:30 and woke up at 4 a.m. Or the time my buddy hid a tape recorder under the seat and recorded our dates' comments about us while we went to the snack bar!
"I love the air photo of Lee Highway D.I. and can pick out the spot we usually parked. I can still smell the aroma coming from the snack bar, feel the cool night air and hear the movie soundtrack echoing around all the parked cars in the lot!
"It's a wonder that kids today can even fall in love without the drive-in!" -- Mike
"I was an employee of the Lee Highway Drive-in in 1969-1970 and participated in the installation of a 'new' at that time, electric in-car heater system. I worked in many other capacities including catching 'sneak-ins' and also worked at a little while at the Mt. Vernon Drive-In." -- Stan
"Hey, great site - thanks for publishing it on the web. I grew up in Fairfax City, VA and was a highschooler in the early 1980's. I remember the Lee Hwy Drive-In (I think we referred to it as the Merrifield Drive-in, since it was in Merrifield). It had AM or FM sound, as we would sometimes drive behind the Levitz furniture store and you could see clearly into the drive-in, so we'd stop and watch for awhile, until the cops came (they were always patrolling around there.)" -- Mark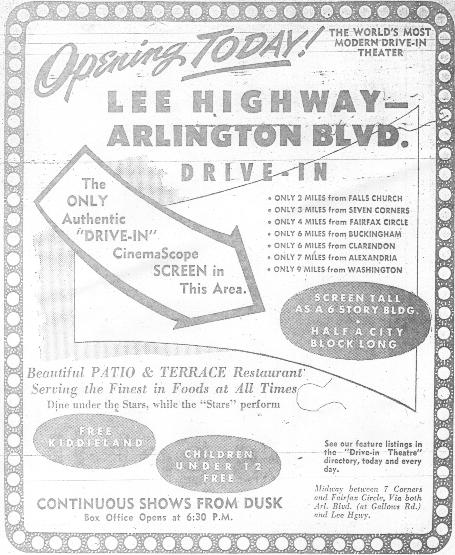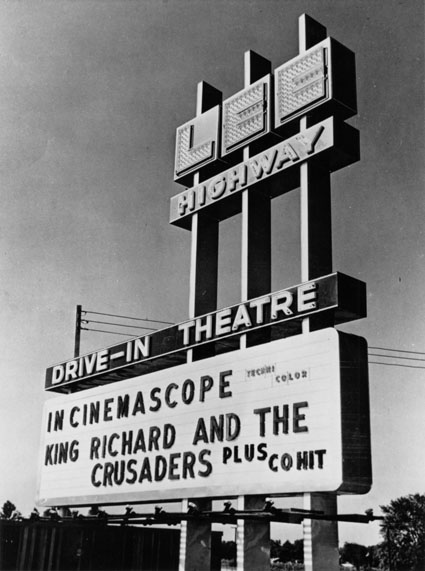 Marquee photo from 1954. Courtesy of National Amusements.


Marquee from 1984, right after the drive-in closed down, beginning at about 3:30 in the above video. Footage of the screen and lot begins at about 2:40. In fact, we recommend you watch the whole thing. Titled "Theater Dark", produced in 1984 by John Heyn, it's a rather moving, filmed tour of long-gone D.C.-area cinemas such as the Penn, the Kennedy and the Tivoli, with the Lee Highway as the one drive-in represented.



"Lee Highway marquee as it appears today. Some asphalt and a heavy steel footer for the screen remain in the woods behind the parking lot." -- Stu Megaw (thanks to him for passing both of the above photos along).
Click here to see the 1984 USGS map depicting the drive-in and surrounding area.
Below is a 1966 aerial photo of the drive-in. Lee Highway and Gallows Road are to the north and east, respectively. Luther Jackson Intermediate School is shown to the immediate southeast. Note the "double ramps" design, which was sometimes used in drive-ins to create space for more cars.

Got some additional information, or some pictures or stories about this drive-in
you'd like to share? Email me -- thanks!