Park Place Drive-In and Fun Center


location
301 Park Blvd. (VA 16 just north of US 11), Marion, Va.
telephone
(276) 781-2222
** NOTE: NEW AREA CODE
year opened
2000
capacity
200 cars
booking policy
double features Fri-Sun, single features during week
sound
FM
other features
digital projection
admission
$6; children 5-11 $2, under 5 free
website
www.parkplacedrivein.com

A BRAND NEW drive-in for the millennium! Built on the site of the old Park Drive-In, which operated from 1954 into the '70s, it features a miniature golf course, batting cages, and an arcade with a small restaurant/carry-out inside.
---

Rate/comment on this drive-in
If you've been to the Park Place and would like to share your opinions, click here.

Average rating: 4.0 (5 votes)
"Mr Harmon, who owns/operates this drive-in does an incredible job with it! Everything is top-notch. The mini-golf is second to none in the tri-state region. The ice cream shop is exceptional. The landscaping is awesome, and last but not least, the movies are first-run and priced for families! I have to say that I consider this drive-in one of the absolute finest in the US! I should know, I've been to most of them! 5 star drive-in experience here!" 5 -- DriveInDude
"We live in Giles County and drive to this drive-in because it is the best. Family fun before the movies, double features, and ice cream. What a great night!!" 5 -- Bill
"I have been a Marion resident most of my life and I think this has been a wonderful addition to the town. There are not many Drive-In Theaters left in the country and people are always surprised to hear that Marion has one. It also gives locals something to do without having to drive 30 minutes to an hour." 4 -- Beth
"You are now showing Cars at 11:30 I am taking that to be PM. That isn't right. You should at least alternate the nights on the weekends and show it at 9:30 or so. It is a 2 hour movie that makes the movie goer getting out of there at 1:30 my child would be asleep in the middle of the movie this is a childs movie not an adults. I realize the Pirates of the C. is a new movie but it is rated pg-13 and most parents these days let there children stay out late. That movie to me would draw the older crowd anyway. Eleven thirty isn't right!!! I am sure alot more parents are upset too." 2 -- "It doesn't matter"

Click here to see the 1989 USGS map depicting the old drive-in and surrounding area.
Click here to see a May 1999 aerial photograph showing the Park Place Fun Center at an early stage. Only the arcade/carry-out building had been built; visible behind it is the outline of the old Park Drive-In ramps.

Marquee isn't much, but...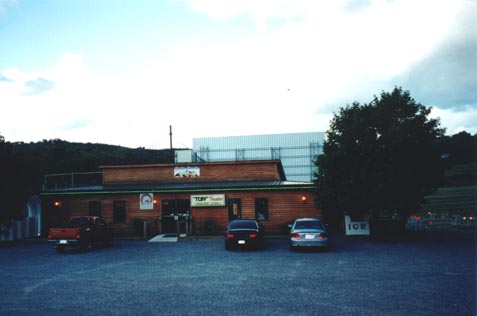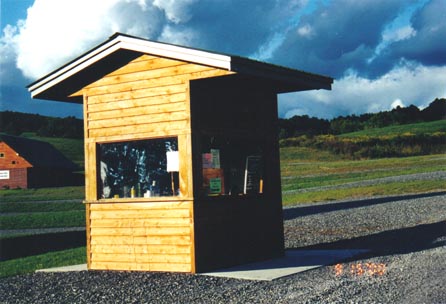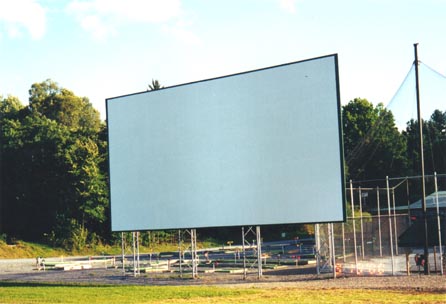 What the HECK is that door doing up there?!