Fort Twin Drive-In
7306 Timberlake Rd. (US 460/business south), Lynchburg, Va.
years of operation: 1966-86
currently: housing development
Opened as a single-screen drive-in by Howell Theatres of Smithfield, NC; the full-page opening ad boasted a 100-foot screen, stereo sound, air-conditioned cafeteria and 70mm capability. The second lot and screen were opened in 1971 in an unusual move: to deal with the increased demand for R and X movies, the new screen was to be devoted exclusively to adult shows, with the older, front screen becoming family-oriented. The debut features on the new screen were Russ Meyer's The Seven Minutes and Beyond the Valley of the Dolls, while Dean Martin and Sean Connery flicks played on Screen One. Later in the decade, a twin-screen (later four-screen) indoor theater was added to what became the Fort Entertainment Center. The older drive-in lot, with its snack bar, screen and speaker posts kept standing, was home to a popular weekly flea market until well into the 2000s, when it was torn down for housing.
Click here to see the 1985 USGS map depicting the drive-in and surrounding area.
Click here to see a 1994 aerial photo of the drive-in.

Screen 1. Above photos taken April 1993.
Below photos taken September 2000:


The ticket booth on the right is the original. The one on the left was built for the second screen.

The partly boarded-up concession stand, now rented out to merchants. Pictured on the upper right is the main indoor portion of the flea market.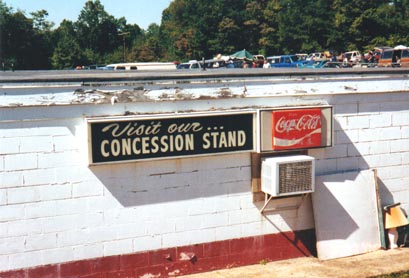 Our theatre proudly serves Coca-Cola! (above and below)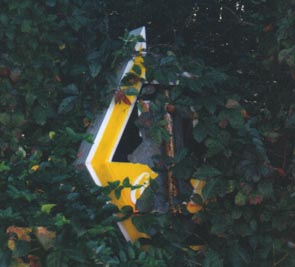 Remains of one of the lighted exit signs.

Yes, this is the same screen as above. Boy, trees can grow a LOT in seven years...

Got some additional information, or some pictures or stories about this drive-in
you'd like to share? Email me -- thanks!