Byrd's View Drive-In
VA 679 at present location of Blue Ridge Shores, northwest of Louisa, Va.
known year of operation: 1949
currently: Blue Ridge Shores Baptist Church
A very mysterious drive-in whose existence I discovered entirely by accident, while researching other area drive-ins. In the late '40s, a lakeside resort community was planned in northern Louisa County that came to be known as Blue Ridge Shores. Among the recreational facilities planned to be part of the resort, situated on land owned by a Dr. I.E. Byrd, was a drive-in theatre. In fact, the week after the proposed resort was announced in the local Central Virginian newspaper (the man-made lake hadn't even been created yet), the grand opening ad for the new drive-in appeared, announcing a week's worth of shows starting Sept. 10, 1949 with The Adventures of Robin Hood, and continuing with June Bride, The Time, the Place and the Girl, The Treasure of Sierra Madre, and That Hagen Girl. (All of which, interestingly, were Warner Bros. pictures.) Strangely, it was also the last ad for the theatre; ads in several subsequent weeks announced dances at Byrd's View, but no more movies. It's unknown why this drive-in never got off the ground, if indeed it actually opened at all. Perhaps the owners discovered the hard way the importance of location -- it was, after all, about three miles from the nearest highway...
Below is part of a 1959 aerial photo showing the drive-in lot.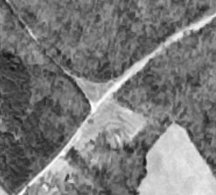 Got some additional information, or some pictures or stories about this drive-in
you'd like to share? Email me -- thanks!