Harrisonburg Drive-In
US 11 north at I-81, Harrisonburg, Va.
years of operation: 1948-86
currently: abandoned; screen gone, scattered mobile homes parked on lot (1998)
Originally operated by R.L. Bean; sold to Roth Theatres, which ran Roth's Drive-In on the south side of town, in 1958. Both drive-ins kept their names in spite of the potential for confusion.
** Bob Mondello, movie critic for National Public Radio, was the advertising director for the Roth's chain who came up with many of the "dusk-to-dawn" gimmicks at the Harrisonburg and other drive-ins. He recounted those stories on a recent edition of Weekend All Things Considered. Click here to listen to this segment. **
"I was one of the last cashiers at the Harrisonburg Drive-In before it closed in 84/85. My mother had worked as a cashier thru the 70s and I took over after she left.
"The area beneath the screen had double doors where we'd throw the bags of old half ticket stubs, and a family of skunks lived under there as well. In the field just south of the boxoffice was a playground built in the 1950s. There was a train, slide, swings and a merry-go-round/push carousel. During the 1970s, the merry-go-round still worked beautifully, but everything else had rusted away. The train had fallen off the tracks and rusted away. As of 2007, none of the playground equipment is left at all, only the rise of ground where the tracks used to be.
"The Harrisonburg Drive-In ended up being the 'adult' drive-in as one could be for the biblebelt of Virginia. We'd play a lot of R-rated versions of adult movies. We did have the Planet of the Apes dusk-to-dawn at the Harrisonburg Drive-In. My mom worked it until the box office until it closed about 2:30 a.m." -- Susan Sherman
Click here to see the 1995 USGS map depicting the drive-in and surrounding area.
Click here to see an aerial photo of the drive-in from 1989.

Photo taken April 1993 at the Harrisonburg.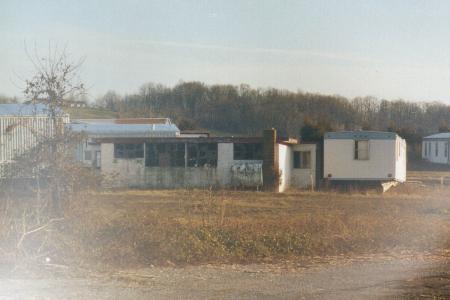 Photo taken early 1998.
Thanks to Tony for the below three photos, taken circa 1989: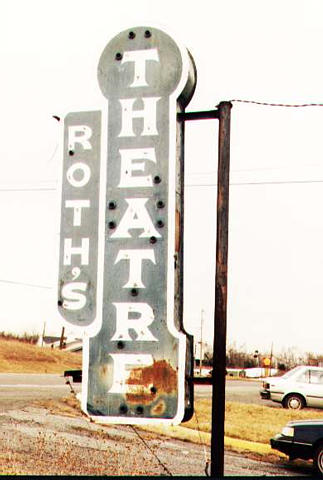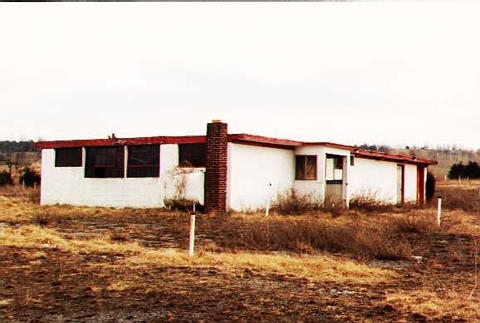 "These pictures of the Harrisonburg Drive-In were taken by my sister who still lives in the area. She even got a picture of the inside of the concession stand, a place I hadn't seen the inside of since May 1984. She took these pictures in Feburary of 2007." -- Susan Sherman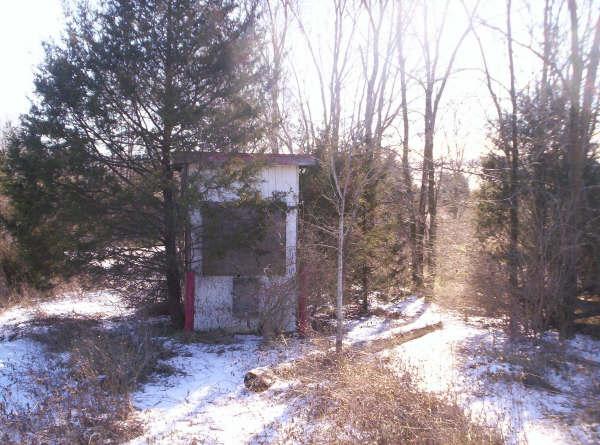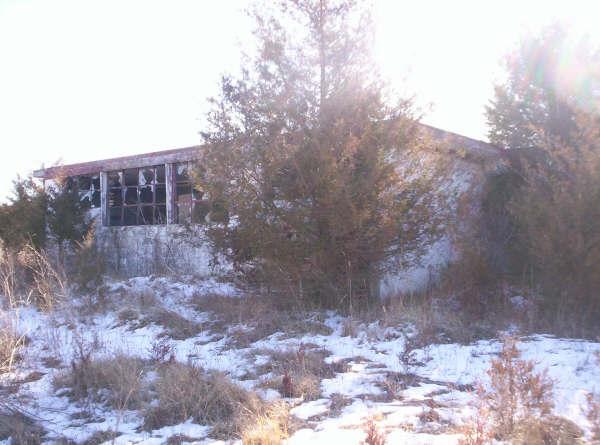 Got some additional information, or some pictures or stories about this drive-in
you'd like to share? Email me -- thanks!