Roth's Drive-In
US 11 south, Harrisonburg, Va.
years of operation: 1951-85
currently: closed; screen gone (1998)
A little-known (to Washington-area moviegoers) fact about the once-mighty Roth's chain is that its roots are actually here, in the central Shenandoah Valley; starting in the '30s, years before establishing a toehold in the D.C. market, it was the dominant exhibitor in Harrisonburg and the surrounding small towns. This was Roth Theatres' (then known as Valley Enterprises) first drive-in. The miniature golf course adjacent to it (now gone) was opened in 1958.
"I used to work at the Roth Drive-In south of town. Because that screen could be seen from the main road of South Main or US Route 11, it played the regular movies [unlike the Harrisonburg DI's adult movies]. Star Wars played back to back for a whole month in 1978.
"My whole family worked for Roth Theatres in Harrisonburg; if you need more background on the Roth Theatres chain, please contact me. My dad was the manager of the Roth's 1-2-3 when it opened up about 1974/1975 and had worked for Roth Theatres for many years before that, up in Northern Virginia. I saw your writeup on Roth's Drive-In and yes, the Roths did start in Harrisonburg. Their first theater was in downtown where they rented a building, put jacks under the floor, cut away the floor away from the building and then angled the floor. In the neighboring towns, they did have theatres during the 1940s to about mid-1950s.
"My dad repaired and built several of the structures at the mini-golf course. The well where the balls ended up after the 18th hole and the Scottish castle were built by him. Did you know that Paul Roth also owned the bowling alley that was near the Roth Drive-in?
"Did you know that at the Roth Drive-In, the ceiling in the projection booth was so low that the modern projectors (1970s/1980s) couldn't fit, so they used the carbon-arc system up to at least 1978 when I worked there." -- Susan Sherman
Click here to see the 1995 USGS map depicting the drive-in and surrounding area.
Click here to see a 1989 aerial photo of the drive-in's remains, showing the outline of the ramps (with mobile homes parked on site).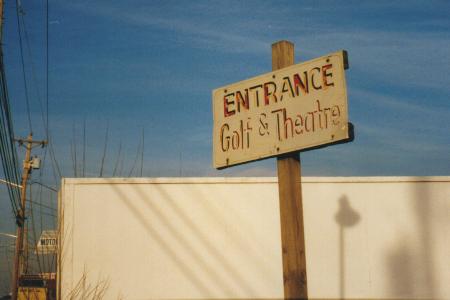 Both photos taken in early 1998.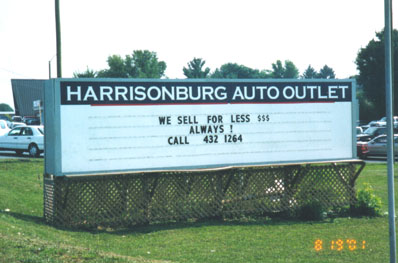 Formerly the drive-in marquee.

Got some additional information, or some pictures or stories about this drive-in
you'd like to share? Email me -- thanks!