Star Drive-In
South Main St. (VA 89) at Pipers Gap Rd. (VA 97), Galax, Va.
years of operation: 1951-85 or 86
currently: vacant; ticket booth and snack bar remain (1999)
This was situated on a bluff about 15 feet above adjoining Chestnut Creek, and 20 feet below the highway. In October 2004, the site was rezoned and slated for a self-storage facility -- details here.
Click here to see the 1984 USGS map depicting the drive-in and surrounding area.
Click here to see a 1999 aerial photograph of the drive-in's remains.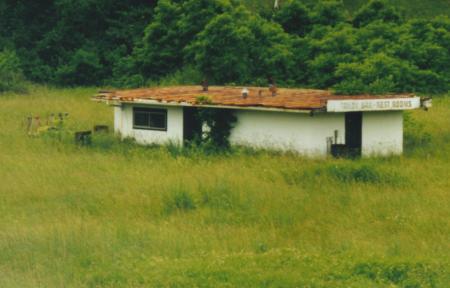 View from Route 89. Photo taken June 1998.

Got some additional information, or some pictures or stories about this drive-in
you'd like to share? Email me -- thanks!