Front Royal Drive-In
Strasburg Rd. (VA 55) 2 miles west of US 522, north of Front Royal, Va.
years of operation: 1949-82
currently: go-kart track, now closed
Opened as the C & C Drive-In, named after its founders, J.A. Cross and C.C. Cattlett. Changed name to Pitts Drive-In in the early '50s after that chain, which also operated the downtown Park Theatre, assumed management. In 1970, after Pitts merged with R/C Theatres, the Pitts name was officially dropped, although it remained emblazoned on the side of the classic Southwestern-style screen tower for decades thereafter. The final show on Labor Day eve, 1982, was a dusk-to-dawn lineup of Seems Like Old Times, Tattoo, Cheech & Chong's Things Are Tough All Over, and Stripes. The screen is sadly gone, but the snack bar/projection building remains in (former) service to the business that replaced the drive-in.
Click here to see the 1996 USGS map depicting the drive-in and surrounding area.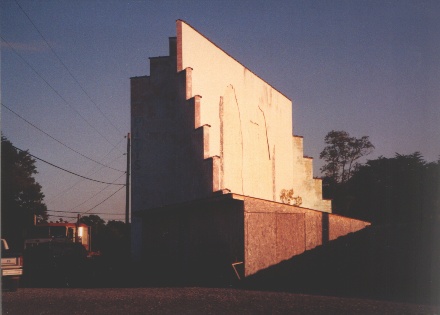 Photo taken in early 1992. Note the word "PITTS" along the rear side.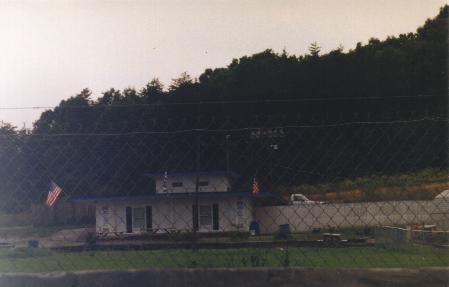 1997 photo of former snack bar/projection building.

Got some additional information, or some pictures or stories about this drive-in
you'd like to share? Email me -- thanks!