Hi Way Drive-In
VA 42 west of Craigsville, Va.
capacity: 89 cars
years of operation: 1953-??
currently: abandoned; rusted marquee still stands, as do shells of concession/projection building and screen; lot is for sale
Opened as the Craig Drive-in (co-operated by John M. Herndon with the town's Craig Theatre). Changed name to Hi Way in 1965. A dirt auto racetrack was located right behind the drive-in.
Click here to see the 1981 USGS map depicting the drive-in and surrounding area.
Click here to see a 1994 aerial photo showing the drive-in's remains, with the ramp pattern faintly outlined.

On the reverse, faded wooden marquee lettering announces stock-car racing for some long-ago Sunday [...Sunday!...Sunday!...].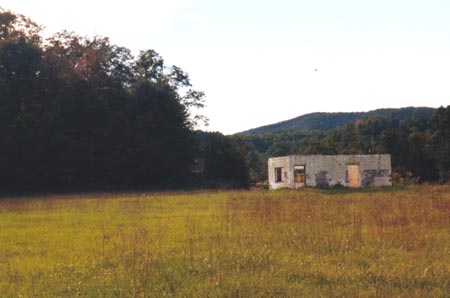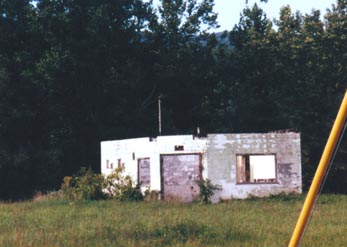 Note the unusual design of the snackbar entrance.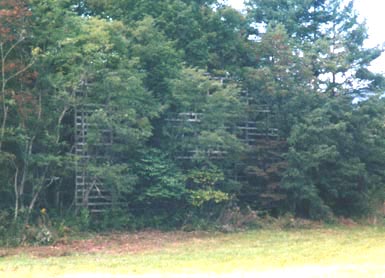 Screen has DEFINITELY seen better days. Above photos taken September 2000.
Thanks to Tony for the photos below, taken a few years back, when the screen was still in one piece...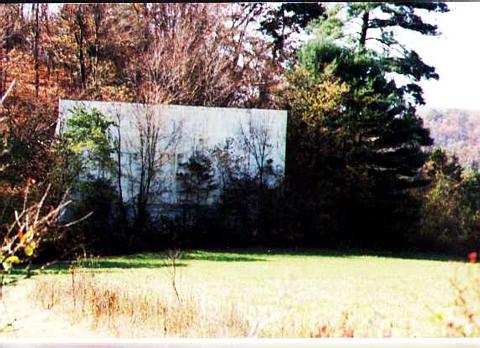 ...and yes, this was the snackbar.


Got some additional information, or some pictures or stories about this drive-in
you'd like to share? Email me -- thanks!