Tri-County Drive-In
VA 40 at old US 501, 2 miles south of Brookneal, Va.
capacity: 100-150 cars
years of operation: 1952-1988+
currently: closed; screen gone, projection booth demolished (2004)
Interesting. This very bare-bones operation was built in the back of a country store called the Four Forks Market. There was no big central building of the sort you normally find, only a small, partially underground projection building. Popcorn was sold at the ticket booth, and you could come around to the store for more snacks. As for restroom facilities, how does a nice two-hole outhouse off to the left of the screen sound? The Four Forks Market is still in business, by the way. (Interestingly, the store clerk told me that the drive-in only operated into the late '70s. Guess she didn't want me to know about its, er, latter history... it survived into the '80s by running XXX material.) May have been the site of an earlier drive-in, the Hilltop.
Click here to see the 1991 USGS map depicting the drive-in and surrounding area.
Click here to see a 1994 aerial photograph of the drive-in's remains.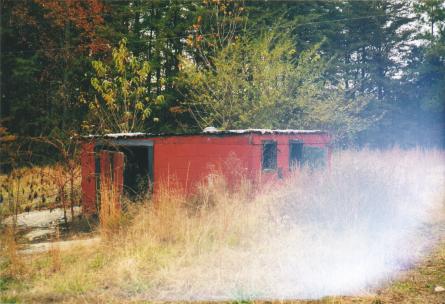 Projection hut. (Apologies for the glare.)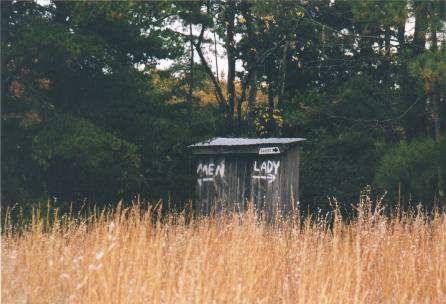 Watch those keys and wallets!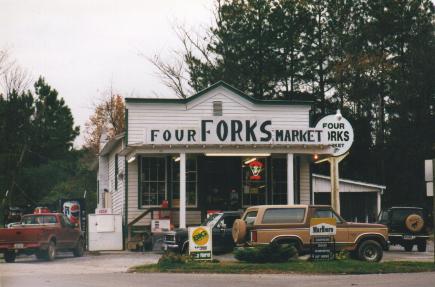 Above photos taken November 1997.

Thanks to Molly Meredith for this photo of the ticket booth, taken in 2004.

Got some additional information, or some pictures or stories about this drive-in
you'd like to share? Email me -- thanks!