Timonium Drive-In
Timonium Rd. at Harrisburg Expressway (I-83), Timonium, Md.
capacity: 2,479 cars
years of operation: 1955-80
currently: Holiday Inn, Timonium One and Two office buildings, and Timonium Business Park.
Click here for an interactive 1971 aerial photo of the drive-in (zoom in or out, or compare to older or newer photos of the same site).
One of the largest single-screen drive-ins ever built (the back row was a quarter-mile away from the screen!) Founded by the Mid-West Drive-In Theatres chain, which later became General Cinema. By the last year it was reportedly being operated by GCC at a tenth of its former car capacity. Fun Fact: Much of Baltimore-bred filmmaker John Waters' artistic sensibility came courtesy of the Timonium. As a teenager, he saw Herschel Gordon Lewis' Blood Feast here ("...when they handed me the vomit bag I knew I had a mentor [Lewis] forever"), and on other occasions would watch adults-only movies through binoculars from the outside. He would later honor other Baltimore drive-ins, the Edmondson and Bengies, with featured placings in Polyester and Cecil B. DeMented, respectively.
"I worked for General Cinema Theatres for close to 29 years, including a stint at the Timonium Drive-In [as assistant manager] from 1973-1975. It has to this very day remained an important part of my life. I even have an original set of blueprints for it from 1955." -- Joe Linville
"In 1968 I was the assistant manager of the Timonium Drive-In. The manager was Howard Holdsworth and the GCC district manager was Ed Dineen. The clean up crew kept everyone involved with the theater supplied with beer. Teenagers would take their dates to drive-ins after getting one or two six-packs of beer. They would consume one or two beers and, not being able to bring it back to their home in the family car, dropped it off next to the speaker post they were using. It got 'cleaned up' the following morning." -- Ron Chalmers
Thanks to Joe Linville for sending along this 1973 photo taken at the Timonium. The car is his 1968 Ford Falcon.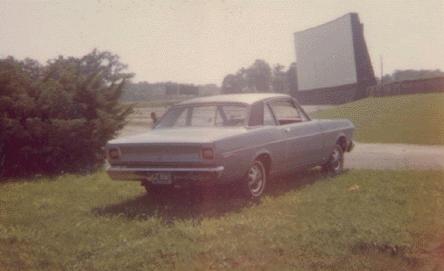 Click here to see another Linville photo of the drive-in, this from 1980.

Got some additional information, or some pictures or stories about this drive-in
you'd like to share? Email me -- thanks!