Bumpers Drive-In Theatre
location
Taneytown Pike (MD 140) at the Monocacy River, Taneytown, Md.
contact info
P.O. Box 308, Eldersburg, MD 21784
phone 1-877-540-0992
email bumpersdrivein@aol.com
planned opening
summer 2007
capacity
2 screens, 400 cars, plus indoor seating
sound
FM for cars; Dolby digital surround in seating area
other features
capacity for digital projection; playground, amusement area, outdoor stage
website
www.bumpers-drivein.com
It's official: with the recent approval (finally!) by Frederick County of the developers' plans, construction will soon be under way at this site, which operated as the 337-car Monocacy Drive-In from 1952-84, and will soon be the home of Bumpers, Maryland's first new permanent drive-in theatre since 1968. Photos and progress updates will be posted at the theatre's website (see link above)
Click here to see the 1984 USGS map depicting the Monocacy and surrounding area.
Click here to see an aerial photo of the drive-in from 1988.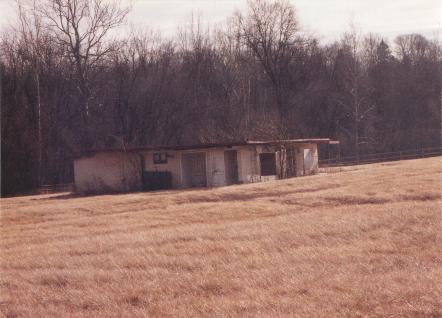 Photo taken in early 1992 of the Monocacy central building, the only major structure standing at the time.

Got some additional information, or some pictures or stories about this drive-in
you'd like to share? Email me -- thanks!