Bowl Drive-In
Northwood Drive (off US 13/business), Salisbury, Md.
capacity: 580 cars
years of operation: 1968-79
currently: vacant; only blue-and-white marquee still stands
Opened by the NYC-based Panther Theatre Co.; operated through most of the '70s by R/C.
"...I remember seeing Mother, Jugs & Speed there, I guess in 1974. (I was all of nine years old). The screen was in the southwest corner of the lot, facing Northwood Dr. That was not a problem at the time, as the sound system was pole-mounted speakers. However, a few years later, the system was 'upgraded' to AM radio transmission (940, I believe). Considering the vacant parking lot opposite the theater, catching a movie was as easy as turning on your radio, and facing the screen area. Wonder how much revenue was lost on THAT venture! About four to five years ago, the 'remains' of the snack bar were still there, considering it was nothing more than a pile of lumber and rubble. The old marquee sign still stands." -- J. Jones
Click here for a 1989 aerial photo showing the drive-in's remains.

Photo taken April 1998.
Thanks to Reggie Reaves for these images of newspaper ads for the first- and last-ever Bowl shows, from April 12, 1968 and October 6, 1979.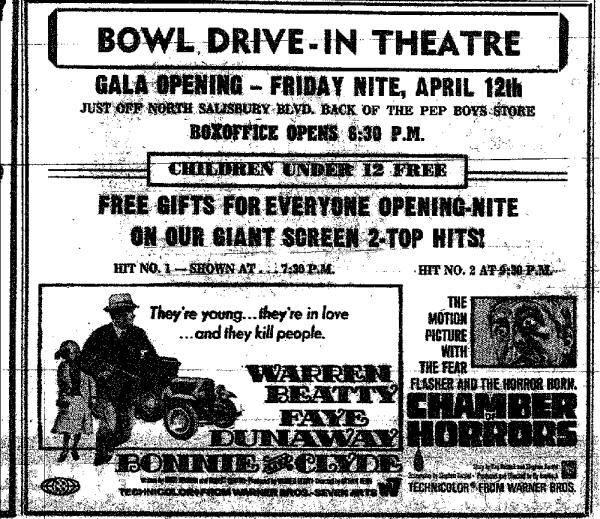 Got some additional information, or some pictures or stories about this drive-in
you'd like to share? Email me -- thanks!