Elkridge Drive-In
Washington Blvd. (US 1), Elkridge, Md.
years of operation: 1948-85
currently: vacant; ramps reportedly bulldozed
Click here for an interactive 1964 aerial photo of the drive-in (zoom in or out, or compare to older or newer photos of the same site).

Click here to see the 1974 USGS map of the Elkridge Drive-In and surrounding area.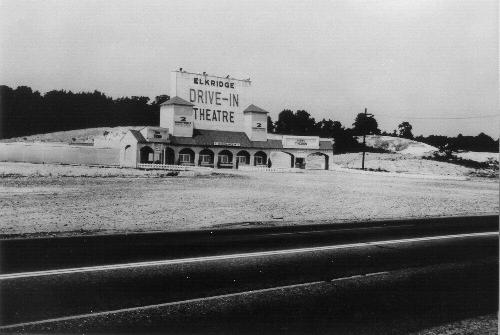 1940s photo of Elkridge Drive-In screen tower.

"In looking at the photo of the Elkridge Drive-In Theatre from the 40s it brought back memories as I worked there in 1959 and during my last year in the Air Force I managed the theatre from 1962 to 1964, when I left to work in the insurance industry. I also worked at the sister drive-in theater, the Edmondson Drive-In Theatre earlier. I worked at the Edmondson in 1957-1958.
"Both theatres were owned by Joseph Einbinder, of Western Maryland, whose primary occupation was a pawnshop owner. The general manager of both the Edmondson and Elkridge theatres was the late George Brehm, Sr. Mr. Brehm was also a president of the Maryland Theatre Owners Association.
"Both theatres were excellently managed with the goal in mind to keep them family operations. One of my many duties was to walk up to a car where things were getting out of hand, to tap on the window and say, 'I'm sorry folks this is a family theatre...' In that day and age those words were always sufficient to unsteam the car windows. The people who worked in those drive-ins had great night vision; the visitors always thought they were invisible. Some really funny memories come back.
"The photo of the 1940s Elkridge was before the company added an entrance road box office and of course both Elkridge and Edmondson had million-dollar snack bars. Both snack bars had outside vendors staff and operate that aspect. To say that conflicts arose between the 'ramp boys' and the snack bar folks would be an understatement.
"Ramp boys had the aforementioned job of keeping the operation a family theatre. They also got to fix speakers and to make emergency repairs, when a row of speakers went out, which frequently happened in the rain. I still recall the excitement of having to fix speakers in the rain with cars blowing their horns all around me along with hecklers. A big flashlight tucked under my chin; rain running down the flashlight on the electric block uncovered by the big screwdriver in my right hand. Feeling my way between the DC part of the box and the AC; ground the edge of the wet screwdriver accidentally connecting the AC with the case. BIG SPARKS! Great fun! How I miss the good old days!" -- ROBERTJ1

Got some additional information, or some pictures or stories about this drive-in
you'd like to share? Email me -- thanks!