Beltsville Drive-In
US 1, Beltsville, Md.
capacity: 700 cars on an 11-acre lot
years of operation: 1947-87
currently: Costco store
Built for $189,000 and originally named the Sidney Lust Drive-In after its founder, this drive-in was much vaunted at its opening for its beautiful Colonial-style screen tower (see below) and its elaborate playground, including a merry-go-round, train and boat rides. Began showing exclusively X-rated movies in the '70s and changed name after the Lust Circuit sold it in 1976. Needless to say the fancy playground was retired by then.
"I found your site from the Beltsville Shell link. I grew up in Beltsville and graduated from High Point in 1970. My girlfriend's mother worked in the concession stand at the drive-in in the mid-late 60s. My friend's name is Jackie Nyberg but I don't know her mother's first name. I thought it was pretty exotic that her mom worked there. We would drop by every once in a while for some free popcorn and she always told us NOT to look a the movies since by then I think it was an 'adult' theater." -- Barbara Shuster
"I saw the Mugwumps there (Mama Cass) and I remember the drink HOT TODDY...came in a can... I was devastated when they didn't keep the theatre....I loved Beltsville....a lot of memories there...I remember details from indoor theatres in MD too....I like Atomic Googie design too... I am 57 now...I will keep your site on my faves!!.... I vaguely remember glass bricks in ticket booth...and yellow bug lights...." -- Jandolin
"I enjoyed your site very much. Here's our little family story about the drive-in. My son was born in 1986 and although the theater was closed in 1987 the building remained for some time. [On] the front on the screen tower to the left and right of 'Sidney Lusts' were the theatre masks for comedy and tragedy in neon. (I don't see them on the old photos, however.) At about the age of 2 or 3, my son was talking about the happy and sad place. One day while passing by he pointed at the building and told me that was the happy and sad place." -- Carol K
Washington-based filmmaker Jeff Krulik, of Heavy Metal Parking Lot fame, made a documentary in 1988 called Twenty-Five Cents Before Noon, about the passing of the area's grand old movie palaces. It includes a minute-long segment devoted to the Sidney Lust/Beltsville DI, with various interior and exterior shots and commentary from an employee of the still-open theatre. Click here to watch the film (QuickTime or RealPlayer required); the drive-in segment starts at about the 6-minute mark.
Click here for an interactive 1980 aerial photo of the drive-in (zoom in or out, or compare to older or newer photos of the same site).

Click here to see the 1979 USGS map depicting the Beltsville Drive-In and surrounding area.

Got some additional information, or some pictures or stories about this drive-in
you'd like to share? Email me -- thanks!



1940s photo of Sidney Lust Drive-In screen tower.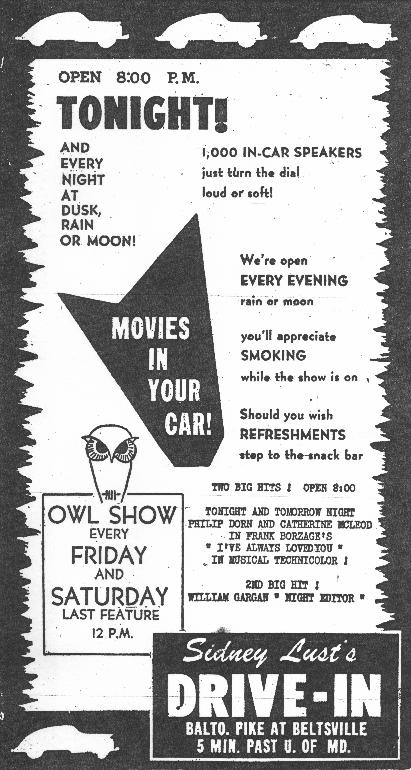 Opening night ad from July 10, 1947.
Below are links to photos of the drive-in from 1947. These originally are from the 1947-48 Theatre Catalog; special thanks to Wesley Horton for providing the scans.
view of screen from inside lot
projection/snackbar building
men's room, projectors
marquee & screen tower
screen tower by night and day