Welcome to Drive-In Theatres of the Mid-Atlantic... a site dedicated to the remembrance of the 250+ outdoor cinemas that have dotted the landscape of Maryland, Virginia and eastern West Virginia (and now Delaware) in the past 70 years, and recognition of the ones that continue to brighten the night sky even today.
Here you can reminisce about the drive-ins of your home town (and learn about ones in your area you may not have known existed) or find out about the still-operating ones that may be within a reasonable drive for you. Chances are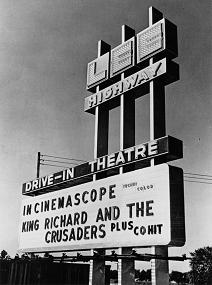 that if you live in a metropolitan area like Washington, Norfolk or Roanoke -- or even most smaller towns or rural areas in the region -- the drive-in is little more than a fond memory; the vast majority of the ones that existed have been either abandoned or torn down, sacrificed to the development gods. Virginia, believe it or not, once ranked seventh among the states in sheer number of operating drive-ins. Sadly, though, since the Sixties a myriad of factors have contributed to the decline of this unique form of entertainment, here and nationwide. Among them: Daylight Saving Time, the energy crisis, the emergence of premium cable and VCRs, the trends toward multiplexing and corporate consolidation of indoor theatres, but most of all the skyrocketing of land values due to suburban expansion, which swallowed many drive-ins right up, particularly in the '80s.
But blessedly, there do remain holdouts which, whether via economic happenstance or dogged determination (or both), continue to uphold the hallowed tradition of offering movies under the stars, for the enjoyment of families, sweethearts and friends in the privacy of their own vehicles, or outside in the cool air. (And lately a few are being re-opened, or even built new!) You just have to look a little harder to find them. But we're here to make that easier for you.
At this site you'll find a map showing the locations of the drive-ins that are currently in business in Maryland, Virginia and eastern West Virginia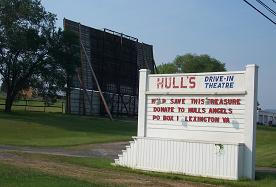 (the District of Columbia never had a drive-in.) There are also several select drive-ins shown that are in neighboring states, but within a short distance of some residents of the above states. You can find out the location of each, along with the phone number and other vital facts about each one to use in planning your outing, including weekly feature/showtime listings, with links to info on each movie.
You'll also find, organized by state and town, listings of all of the drive-ins that are known to have existed in the region. These will be linked to information pages about the history of each one, including all significant facts known about them, such as years of operation and what became of them. Where available, photos of the drive-in or its remains will be posted. If you have any facts or memories to share about any of them, and especially if you have any pictures to contribute, you are definitely encouraged to share them with us...use the link at bottom to get in touch.
Speaking of links, a click on "Links" will lead you to numerous other drive-in-related websites, including drive-ins.com, the national/worldwide drive-in directory, and the Drive-ins discussion list at YahooGroups, where you can converse online with dozens of like-minded enthusiasts.
This site is very much a work in progress, but given time and effort we hope to make it one of the premier drive-in theatre sites on the Web.